Chip strategy: Exploring your FPL plans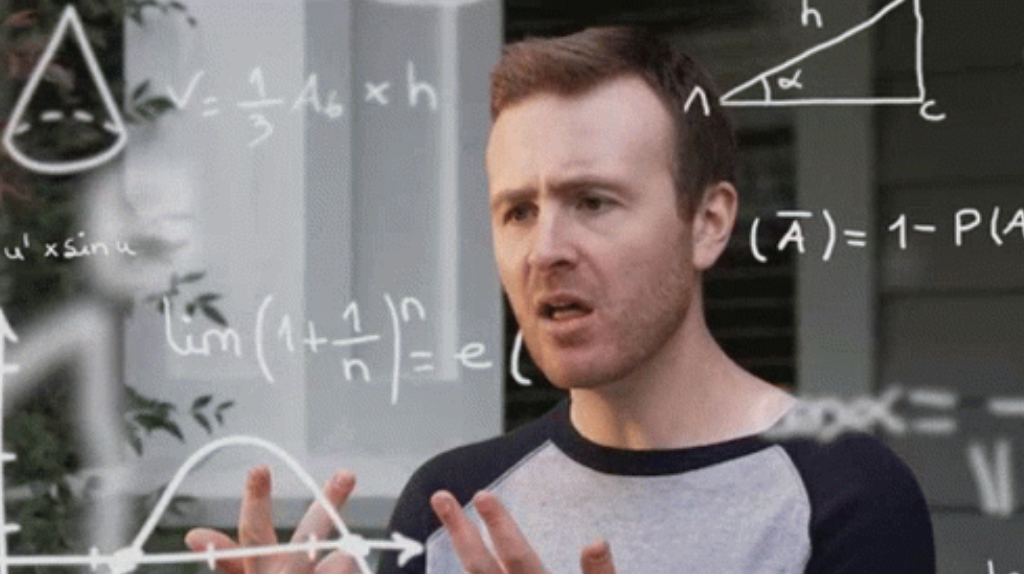 A two-and-a-half week break in Premier League action is a good time to sit back, breathe and start thinking of your FPL strategy for the rest of the season. Covid has made this season as unpredictable as ever but a well-balanced squad should still be able to cope with most scenarios.
However, we have chips to use. The second Wildcard has been available to use since Gameweek 21 (GW21), while a second Free Hit chip was given to all managers amidst the many postponements. The Bench Boost chip allows you play all 15 players in a Gameweek, whilst Triple Captain multiplies your captaincy score by three. Here are some factors to consider when deploying your chips:
BLANK GAMEWEEKS
We know about Chelsea's Club World Cup commitments calling off their matches in Gameweeks 24 and 25 (against Brighton and Arsenal) and such individual ones can be coped with. But, as with every season, there are set to be large Blank Gameweeks – and therefore Doubles – caused by FA Cup clashes.
The four quarter-finals take place in Gameweek 30 (GW30), which usually leads to five or six postponements, with semi-finals in Gameweek 33 (GW33). If you're a manager who prefers to Free Hit on a large blank rather than a large double (as it's less likely to backfire), using one in GW30 is recommended.
Gameweek 27 (GW27) will be another popular time to use a Free Hit, as the EFL Cup final robs Liverpool, Chelsea, Arsenal and Leicester of league matches. With popular assets like Mohamed Salah, Trent Alexander-Arnold, Diogo Jota, Aaron Ramsdale, Ben White, Bukayo Saka, Emile Smith Rowe, Antonio Rudiger, Marcos Alonso, Mason Mount and James Maddison unavailable, managers may struggle to even reach eight or nine players.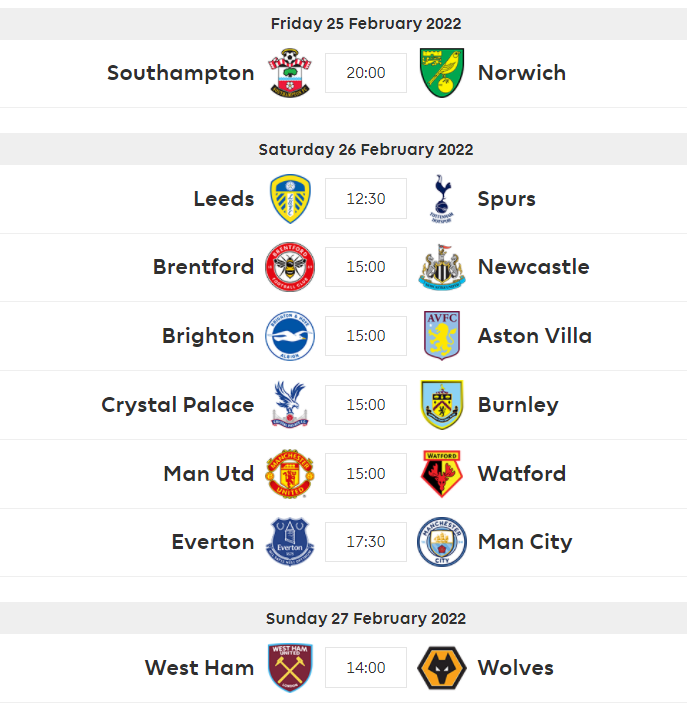 These are the remaining fixtures, offering enticing matches for Man United, Southampton and Tottenham. What holds it back is the assumption that Everton will return to being competitive by the time Man City come to Merseyside.
DOUBLE GAMEWEEKS
As a consequence of these blanks, there will be big Double Gameweeks. The midweeks of rounds 33, 36 and 37 are free of European competition so – although UEFA have granted permission to relocate matches to Champions League nights – these are highlighted for opportunities to Free Hit or Bench Boost (and FA Cup semi-final postponements can simply move to midweek and avoid a GW33 blank).
Yet this season there is likely to be a trickle of small doubles, such as Man United v Brighton being added to Gameweek 25 (GW25) and rumours of similar additions later on – particularly for those with four games in hand like Arsenal, Burnley and Leicester. These represent chances to use Triple Captain, a chip often pushed to the side during large doubles.
Cristiano Ronaldo has two home matches against Southampton and Brighton in GW25. Maybe Salah gets a match added onto Norwich (H) in Gameweek 26. What if there's even a Triple Gameweek, like what happened to Man United last season? Triple Captain is for smaller doubles, with Free Hit or Bench Boost for the big ones.
FIXTURE SWINGS
This will help for plotting a good time to Wildcard and then work backwards when deciding chips and upcoming transfers. Using the game's official Fixture Difficulty Rating system, here is the schedule up to Gameweek 35.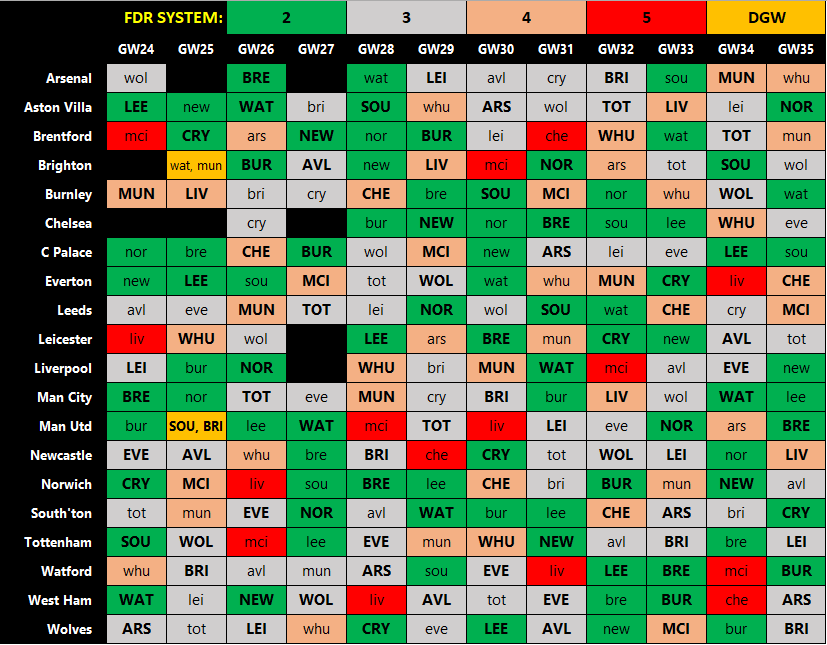 At first glance, Gameweek 29 looks like a point where great fixtures end for Aston Villa, Brighton, Crystal Palace and Man United. Simultaneously, games start to improve for Burnley, Chelsea, Leeds, Leicester and Southampton.
It could be a good time to Wildcard out the likes of Ronaldo, David De Gea, Robert Sanchez, Ollie Watkins, Conor Gallagher and Lucas Digne. The problem is that the very next week brings FA Cup blanks, so elite managers are advising to wait until afterwards in Gameweek 31.
But the usage of chips ultimately depends on each manager's individual team and how many chips remain. Those still with two Free Hits in their pocket have more options than those with fewer. We won't know the GW30 blanks until after GW27.