Chelsea and the best blues FPL assets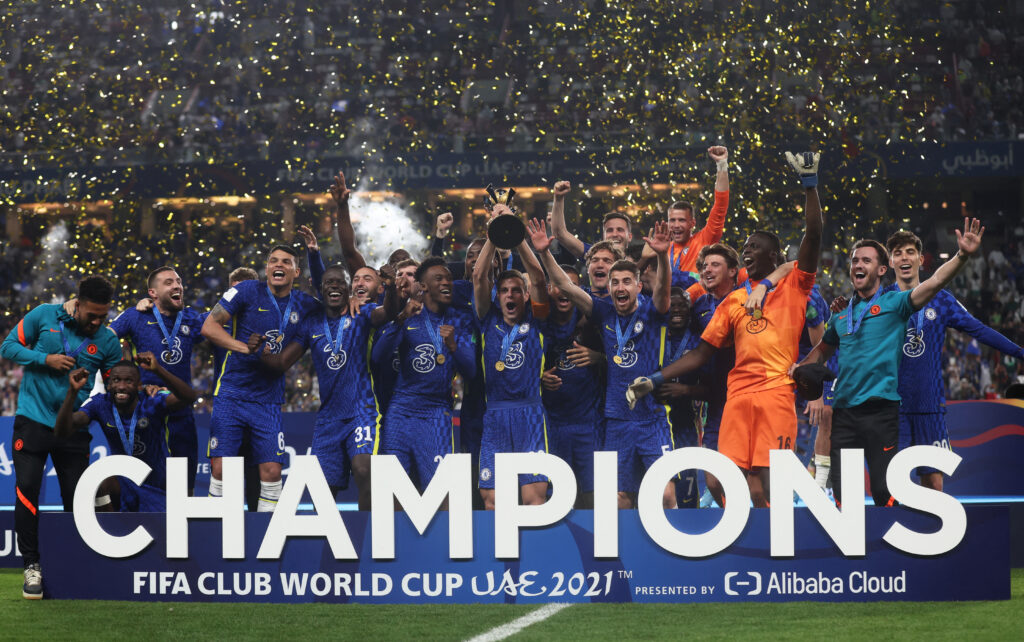 One of the best parts of the FPL community on Twitter is the wealth of excellent threads. FPL Reactions has taken a dive through Chelsea to discuss the best blues FPL assets. His latest thread replicated here.
Here I'll take a look at why Chelsea are a team to buy into and who we should be picking for Gameweek 31 onwards. This includes:
System Changes
Form
Underlying stats
Potential rotation
Reliability of minutes
Fixtures
Chelsea play only one 'tough' game in the official fixture difficulty rater, even more exciting is that they are also likely to double twice before the end of the season.
With additional fixtures of Leicester and Leeds to be rescheduled.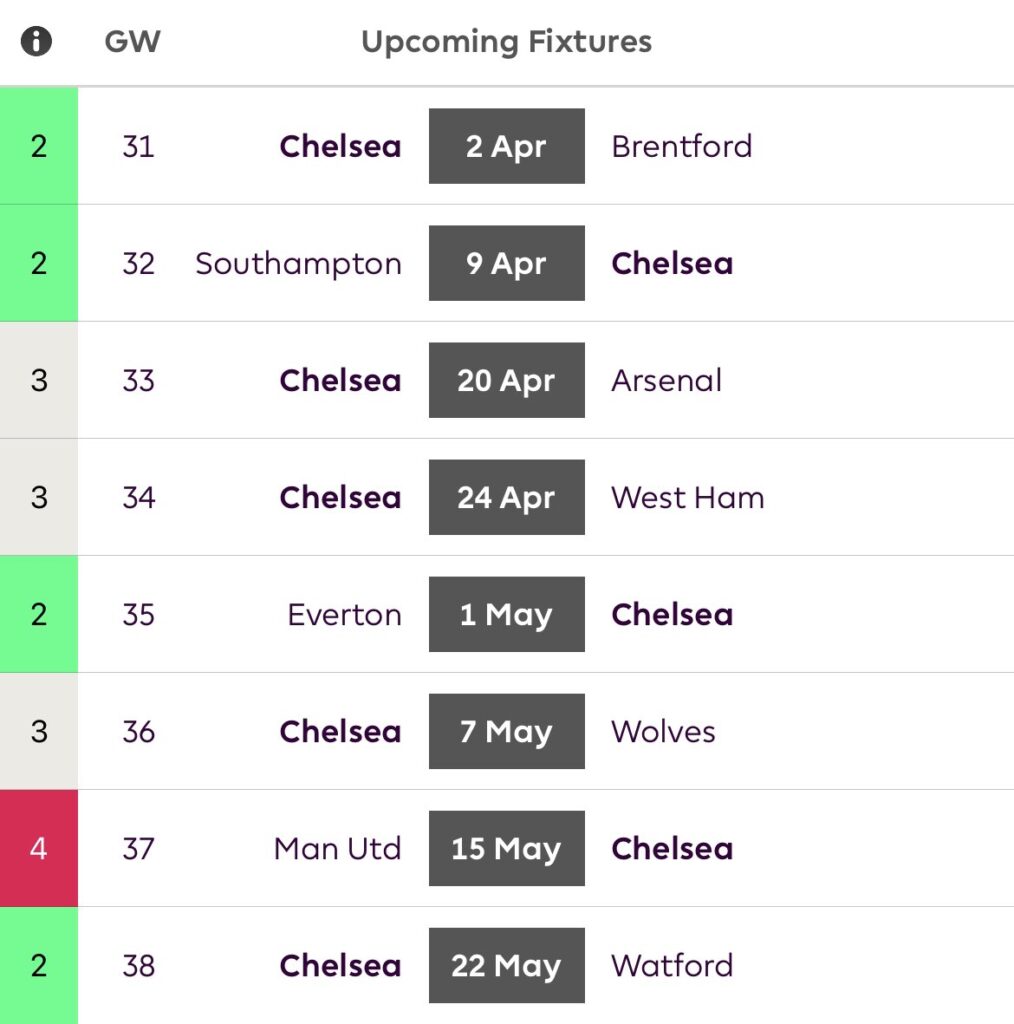 Let's take a look at some of the defensive frailties their opponents have carried lately.
Brentford
In the last six Gameweek 31 opponents Brentford have:
Lost three
Conceded two goals on three occasions
Conceded the sixth most shots on
Sixth worst for headed attempts conceded
Second worst crosses from the left and right conceded
Southampton
Southampton are secure in mid table and have nothing to play for. This means they could lack motivation in the Premier League. Southampton have:
Three Premier League losses on the bounce against Newcastle, Watford and Aston Villa
They are fourth worst in the last six Gameweeks for big chances conceded
Leeds
The fixture against Leeds is due to be rescheduled. In the last six Gameweeks Leeds are
17th for goals conceded, an average of 2.8 goals per match
third worst for attempts conceded in the box
The worst for shots on target
Joint worst for big chances conceded
Worst for chances conceded left and right flanks
Worst for defensive tackles lost
Wolves
In the last six Gameweeks Wolves have
Lost 4 of their 6 matches
Conceded 2 or more in three of their last six matches
They are also second worst for attempts conceded in box
Third worst for shots on target
Second worst for chances conceded on their right flank
Fourth worst for attempts conceded from set plays
Watford
In the last six Gameweeks Watford have
Conceded 12 goals, an average of two per match
Conceded three or more gaols in three of the six matches
They are joint second worst for headed goal attempts conceded
They are the worst crosses conceded from both the left and right flank
The Chelsea defence
After the mid season defensive slump Chelsea now seem to be tightening up again. Chelsea have even beaten both Liverpool and Man City in some key areas too! In the last six Gameweeks Chelsea have kept four clean sheets and have only conceded two goals. They were the best in the league for attempts conceded in the box as well as being second best for attempts conceded outside the box.
Chelsea were also the best for shots on target conceded with only five. As well as being second best headed attempts conceded. They were also the best for big chances conceded with only three.
Defensive options
Mendy (£6.1m)
Reliability of game time: Absolutely nailed
Overview: Expensive, safe, low ceiling, something most top FPL managers avoid but an easy way in.
Rudiger £6.1 million
Reliability of game time: Absolutely nailed,rarely rested. Missed one of the last 10 Premier League games. Has 25 points in last five played (five points per game average
Offensive threat: Makes bursting runs toward the opponents box and loves to shoot. He has the third highest goal attempts this season (32) only behind Trent and Cancelo. He is joint fourth for shots on target amongst all defenders.
Overview: High price, safe but has the potential to sneak an attacking return.
Thiago Silva £5.7m
Reliability of game time: Mostly nailed, rested more often than Rudiger but only just, played last eight out of 10 PL matches. He has 31 points in last five played, an average of 6.2 pointe per match. This is higher than Rudiger.
Offensive threat: Just 13 goal attempts this season which is not even half of Rudiger. He has had 5 shots on target (just over half of Rudiger)
Overview: Cheaper, pretty safe, has shown he can score/assist but it's not often, still a very good option if you need the money
Reece James £6.2m
Reliability of game time: Back in full training and seemingly being protected by Tuchel from international football, James looks to be ready. Pre-injury James managed a run of nine out of 10 Premier League matches played in a row.
With Real Madrid four days after Brentford it's likely Tuchel will want James match fit. This could mean that be starts verse Brentford.
Offensive threat: Amongst defenders he is third for big chances created (having played much less games than Alexander-Arnold and Robertson who are ahead of him. He is first amongst defenders for goals with five. He is also fourth for chances created per 90.
Overview: Some risk but massive potential and could outscore most players in the game in any given game week, if any players worth the risk it's him.
Other defensive options
Marcus Alonso: Poor form, Sarr's growing performances + System changes means he's a risk.
Trevoh Chalobah: Although seemingly preferred lately performances have been poor, likely to rotate with Christensen for the rest of the season. However Christensen does look set to leave the club in the next window.
Attacking options
Kai Havertz £7.9m
Reliability of game time: Mostly nailed, played last eight out of 10 matches for Chelsea (missing only the cup games). In form and even if Lukaku starts he can play behind him and has.
Offensive threat: Havertz has six gaols and two assists in his last ten starts for Chelsea. He has returned 33 points in the last three Premier League matches averaging 11 points per game. He is also joint first for Midfielders for goals with six scored in the last four.
Overview: Mostly nailed, explosive, in form, advanced position and the main man presently.
Mason Mount £7.5m
Reliability of game time: Nailed, Pre-injury Mount played eight out of the last 10 matches (missing just cup matches). Mount is a fan favourite and Tuchel knows it. He can also start in central Midfield when a system change occurs.
Offensive threat: Mount has returned six assists and one goal in his last 10 Premier League starts. He is sixth amongst all midfielders this season for big chances created.
Overview: Nailed, safe, takes some set pieces, fits into both systems, lower ceiling than Havertz it seems.
Other options
Ziyech – in form , but fighting for one position, a risk
Pulisic- in form but fighting for one position, a risk
Lukaku- out of form and a huge risk, will rarely play.
Werner- out of form and a huge risk, will rarely play.
Chelsea assets ranked in the opinion on FPL Reactions
James
Havertz
Rudiger
Mount
Thiago Silva
Mendy
Chalobah/Alonso
Pulisic/Ziyech/Christensen
Lukaku/Sarr
Werner
FPL Reactions believes the most common Chelsea line up will continue to be:
That's my take on the Chelsea assets moving forward. Personally the combination of Havertz and James excites me but you could mix that up.
Stats courtesy of @FFScout
Click here to read the Tweet on Twitter.
---
For more on Chelsea here's a link to out article on the form of Havertz.