Bundesliga Fantasy expert picks and preview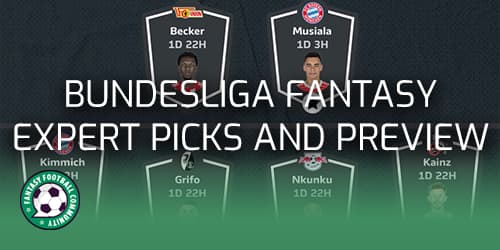 With a new round ahead, we look at Bundesliga Fantasy expert picks and preview. @FPLGunnersaurus (Jay) joins us to give his three top picks for the Matchday ahead. In addition, he also shares his squad going into the new round with his general thoughts.
Twitter is full of the most experienced fantasy football players around. Those managers can be some of the best people to look to when trying to gain clarity when making their own decisions within their teams. Seeing the insight of a Bundesliga fantasy expert can help for the Matchday ahead.
Top targets – Marcus Thuram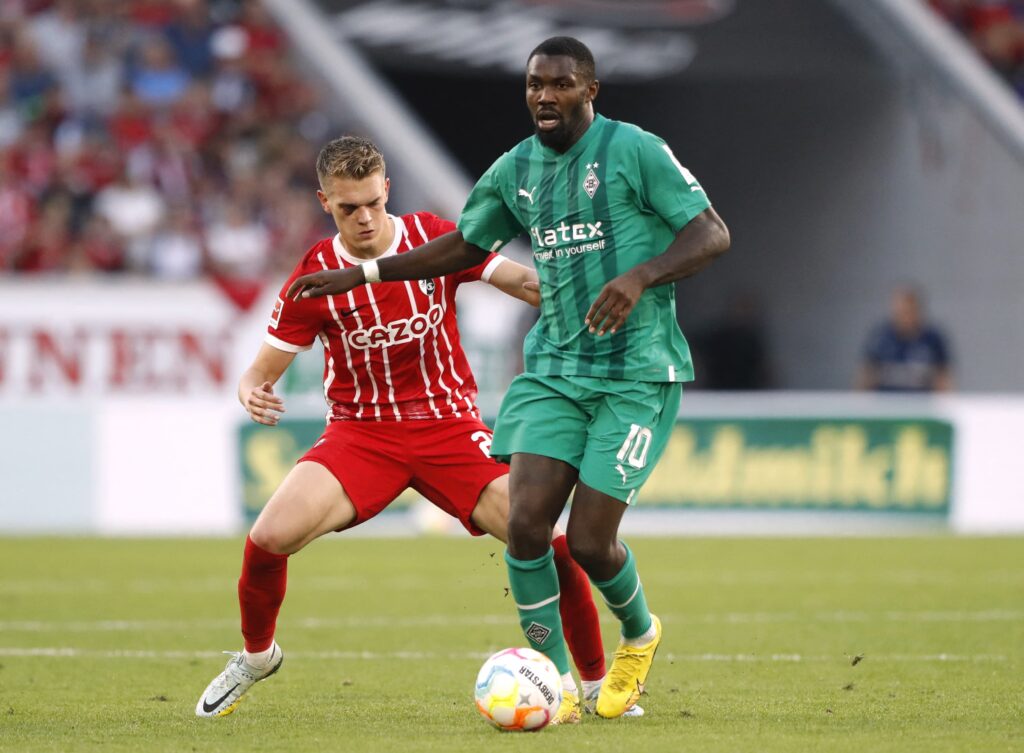 (Forward – £11.9m – 21% owned – Borussia Mönchengladbach) Gladbach coach Daniel Farke has confirmed that Thuram has resumed training after a slight calf injury. He is in line to start their Saturday evening game away to newly promoted Werder Bremen.
Bremen are winless at home this season. They have also conceded seven goals in their three home games. Meanwhile, Thuram is having a resurgence this season after suffering an injury hit campaign. He has six goals and three assists in eight games across all competitions so far. With a standalone fixture too, Thuram is a great 'back-up' option to switch your forward star to if your other strikers don't pay off.
Christopher Nkunku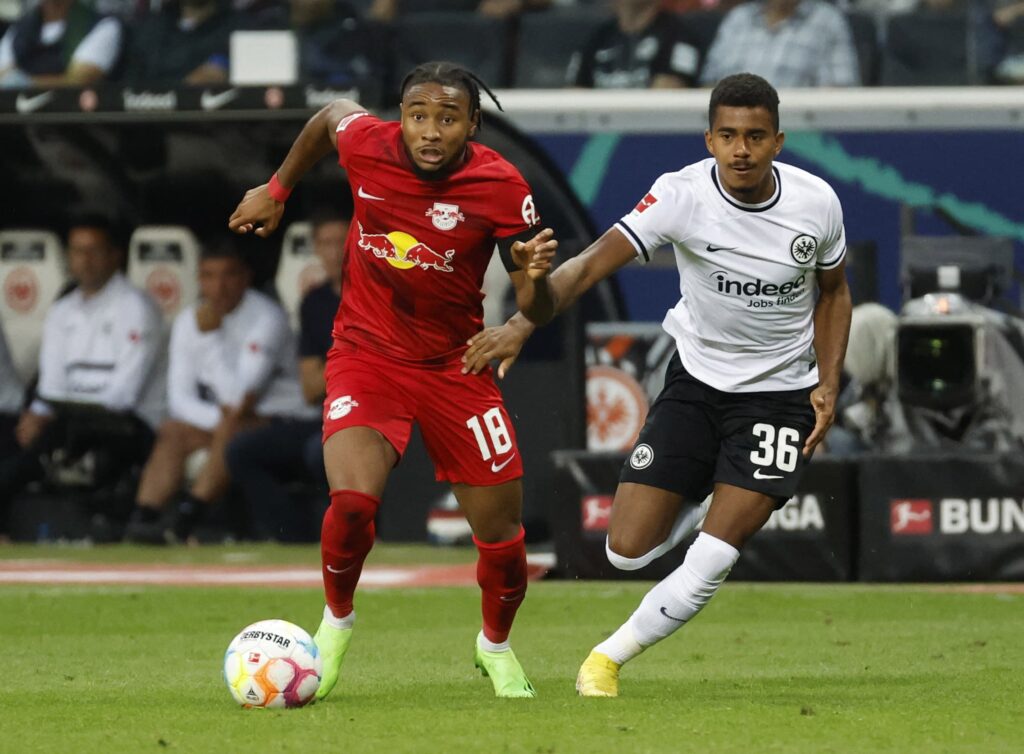 (Midfielder – £15.9m – 65% owned – RB Leipzig) Despite a very unusual dip in form lately, Nkunku remains a standout option this matchday. He plays a wonderful home fixture against bottom of the table Bochum.
After a stellar first season back in the topflight, Bochum have not won a league game this season. In fact, lost their first six fixtures. Leipzig are also looking to bounce-back after a 3-0 defeat to Gladbach in Matchday 7. Still very much the focal attacking point of the team, Nkunku will be looking to add to his four Bundesliga goals already with a huge fantasy return this coming matchday.
Benjamin Pavard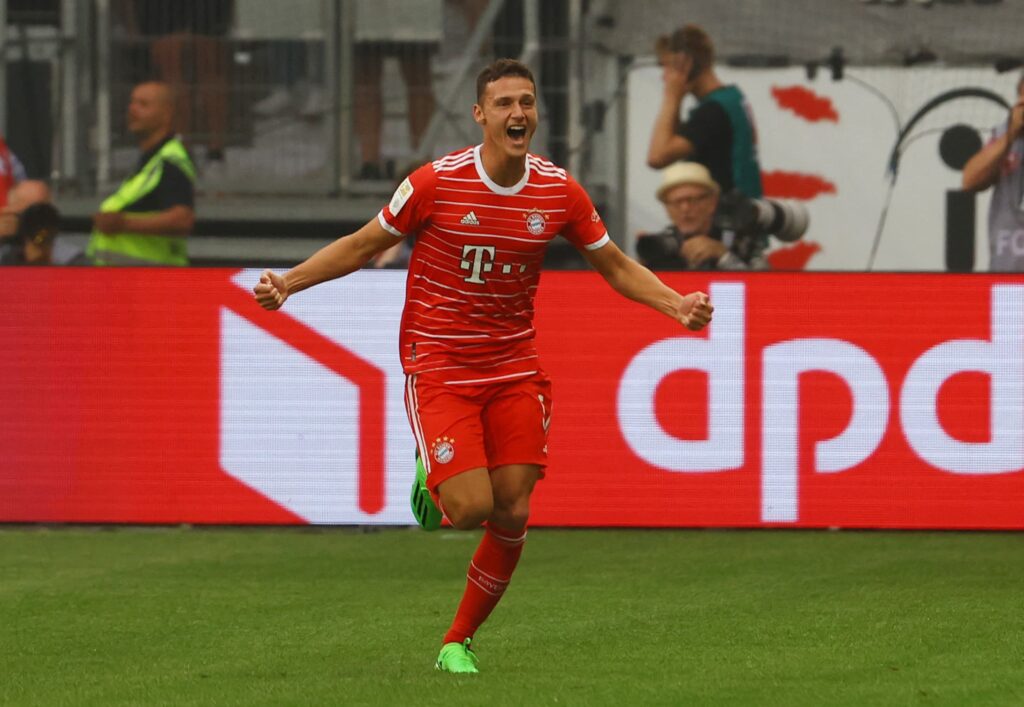 (Defender – £12m – 26% owned – FC Bayern München) After missing the last two league games Pavard is expected to resume his right-back role in Bayern's upcoming home game against Leverkusen. Despite only scoring the once this season, Pavard has been racking up points for goal attempts, 22pts in fact in the four games outside of the one he scored in.
Add this to his all-round methods of scoring point (passes to shots, won duels etc), Pavard at £12m is a bargain price. He also plays in the Friday night stand alone fixture, so place the defender star on him and if it all goes wrong you can easily switch it out to someone else.
Matchday 8 team preview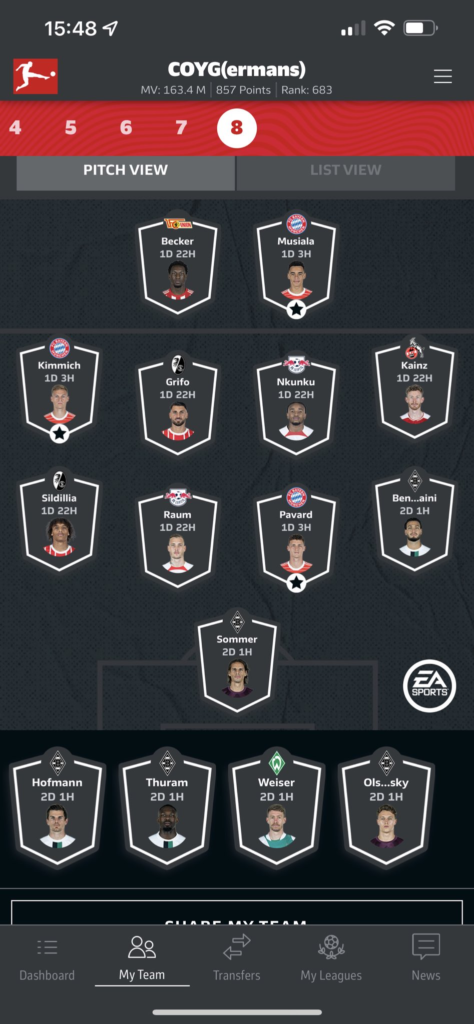 Goalkeepers
Sommer (10.2m – BMG), Olschowsky (BMG – £1m) I'm never usually one to buy an expensive goalkeeper but at the rate Sommer is picking up save points he should be the highest scoring keeper in the game this season. No back-up goalkeeper for now as Sommer can do the job even without keeping clean sheets.
Defence
Pavard (12m – FCB), Raum (12m – RBL), Weiser (4m – SWV), Sildillia (3.9m – SCF), Bensebaini (12.4m – BMG). Three great defender star options with standalone fixtures for Pavard, Raum and Bensebaini. They are all premium defenders in my book without the price tag of someone like Davies or Günter.
Midfielders
Kainz (9.3m – KOE), Grifo (14.5m – SCF), Kimmich (16.7m – FCB), Nkunku (15.9m – RBL), Hofmann (15m – BMG). The midfield is where my money is almost always heavily invested in. There are a lot of 'template' picks here but for good reason. Kainz aside, you probably have the best four midfielders in the league right there.
Forwards
Thuram (11.9m – BMG), Becker (10.9m – FCU), Musiala (13.1m – FCB). The great thing about no Lewandowski or Haaland this season is picking strikers you never would have normally. Picking the right Munich forwards to have is becoming a little game in itself this season. However, on current form Musiala gets the nod as if he doesn't start, he can always be moved out to someone else before the 7.30pm UK time deadline.
---
To keep up to date with all of our Budesliga content, you can find it all in one place right here.