Best FPL midfielders 2021/22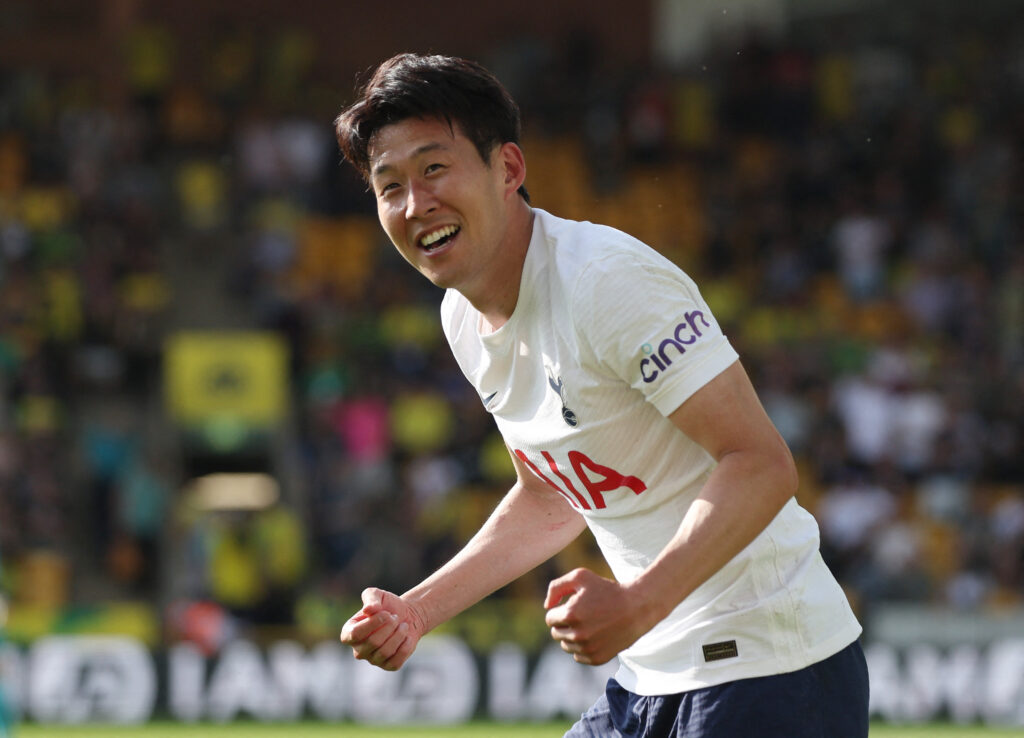 With the 2021/22 season over now is the time to look back and review the key learning points of the season. Here we take a look at the key midfielders from the season. We look at the highest FPL scoring players, as well as the key underlying stats.
Midfielders were a top priority for FPL managers this season. Many FPL managers flooded their midfield with budget rather than paying for a premium forward. Especially early on in the season. Over the course of the season there have been a number of excellent options in the midfielder spots.
Top FPL midfield points scorers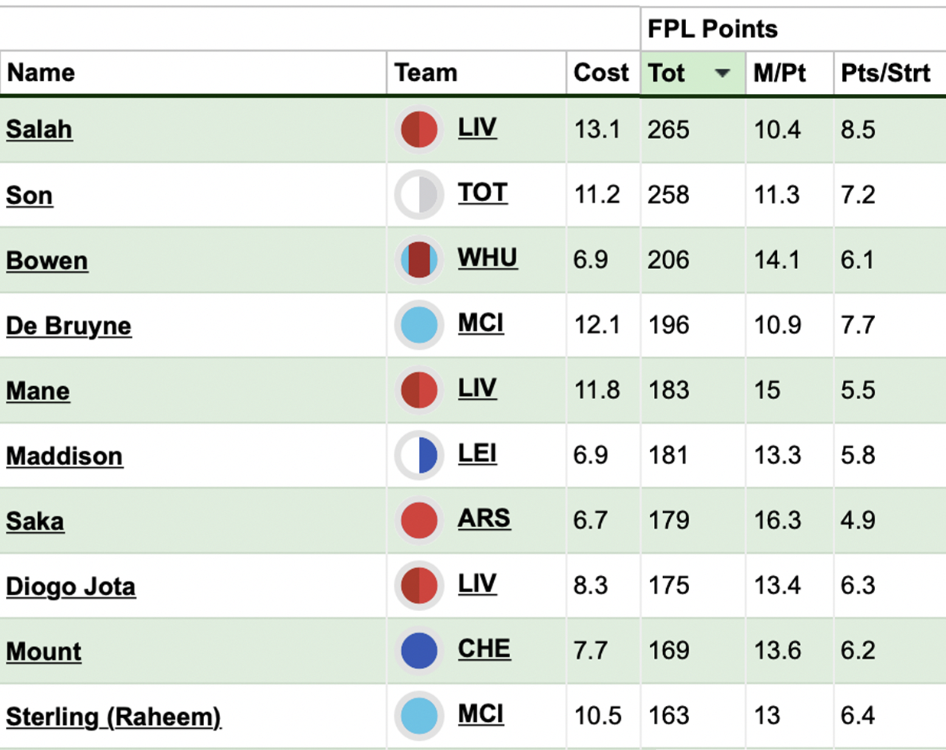 Mo Salah was the top FPL points scoring midfielder this season. In fact he was the top scoring player in the game this season with 265 points. Tottenham's Son Heung-Min was a close second just seven points behind Salah. Impressively at just £6.9m West Ham's Jarrod Bowen was third amongst midfielders for FPL points scored this season.
Bowen ony failed to return once between Gameweek 5 and 11. As well as returning nine double digit hauls over the course of the season.
Top for attacking returns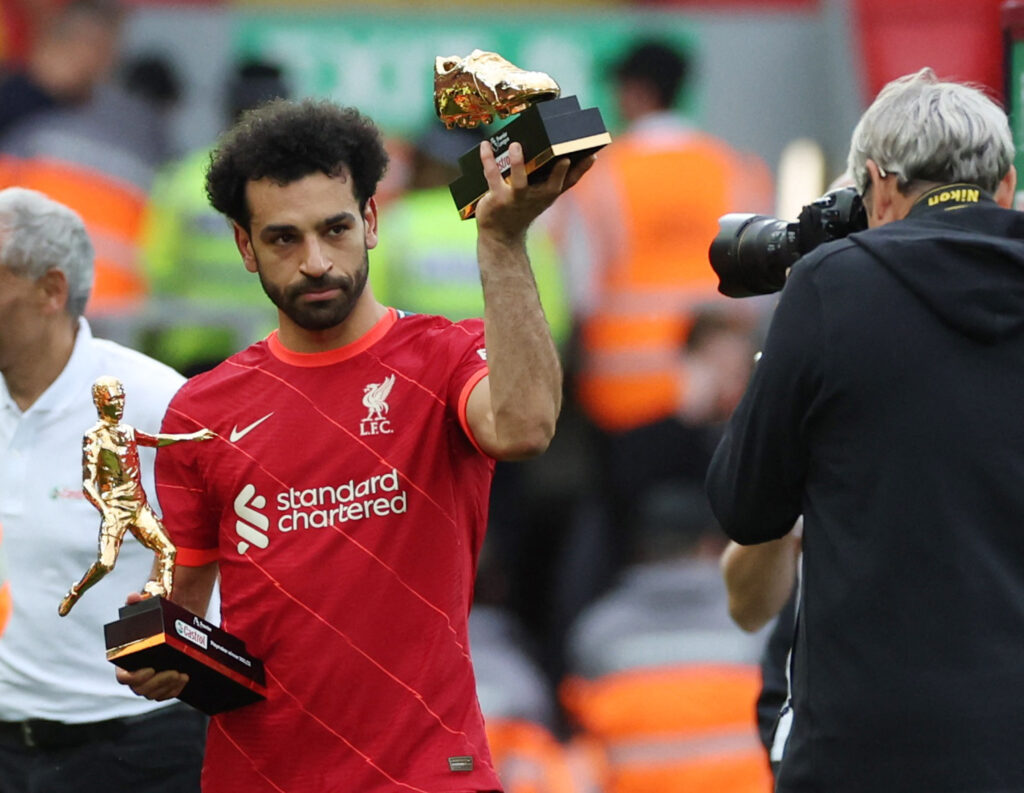 Salah was top for attacking returns by midfielders this season. The Egyptian managed 37 attacking returns. This saw him collect the Golden Boot award, which he shared with Son Heung-Min for 23 goals. Salah also earned the Playmaker award for his 14 assists. However, Bowen was top for total assists this season with 17. He picked up 10 assists as well as seven fantasy assists. The Premier League defines fantasy assists as:
In FPL, the basic definition of an assist is extended.

Firstly, the rules on touches of the ball by opponents are relaxed.

An assist can be awarded for a pass or cross, even if an opponent gets a touch before the goal is scored. However, that touch must not significantly alter the intended destination of the ball.

Taken from the Premier League website
The top ten midfielders for attacking returns were as follows:
Salah – 37
Son – 33
Bowen – 29
Jota – 23
Maddison – 23
Mount – 22
De Bruyne – 22
Mane – 21
Saka – 20
Sterling – 20
Goals scored
Salah and Son shared this season's Golden Boot. Both midfielders returned 23 goals this campaign. Indeed seven of the top ten goal scorers this season came from midfield.
Mohamed Salah – 23
Son Heung-min – 23
Cristiano Ronaldo – 18 (Forward)
Harry Kane – 17 (Forward)
Sadio Mane – 16
Kevin De Bruyne – 15
Diogo Jota – 15
Jamie Vardy – 15 (Forward)
Wilf Zaha – 14
Raheem Sterling – 13
Touches in the final third
Salah had the most touches in the final third of all midfielders in the game. Man City's Bernardo Silva was second, with Saka third and De Bruyne fourth. Whilst Bruno Fernandes had a disappointing season with only 17 attacking returns, he was still fifth for touches in the final third this season.
Overall
Only five players in the game this season scored over 200 points. Three of these players were midfielders in Salah, Son and Bowen. Indeed 12 of the two 20 points scorers were midfielders. Many of the high scoring midfielders also offered exceptional value for money. Saka and Bowen as well as James Ward-Prowse and James Maddison all cost under £7m. With the points returns shown by midfielders it is unsurprising that many FPL managers prioritised the midfielder spots.