Are there fewer clean sheets early on in a season?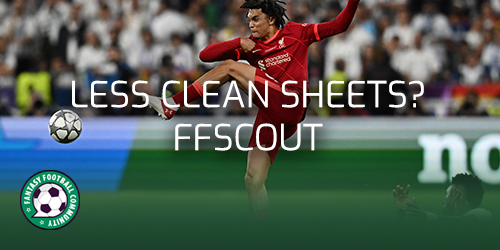 When the FPL game launches for 2022/23 managers will be trying to work out how best to deploy their budget. Tom from Fantasy Football Scout has taken a look at whether FPL defenders keep fewer clean sheets in the opening weeks of the season.
Many Fantasy Premier League (FPL) managers are considering a 'big at the back' approach for 2022/23. Our latest article asks if fewer clean sheets are kept at the start of the season.
For this piece, we'll be looking at the figures from Gameweeks 1-6 and after. Analysing the data to see if scoring habits fluctuate depending on the time of year.
We will pay attention to the numbers from the last 11 seasons. This will see if the trends are a yearly occurrence or indeed if there is little to be read into the figures.
Overall defensive data
Firstly, let's look at the overall defensive data over the last 11 seasons. This is as far back as our Opta records go.
Do defences keep fewer clean sheets at the start of the season?
In the below tables, we'll break down how many clean sheets were kept between Gameweeks 1-6 and 7-38. Looking at overall records plus averages per team, per match.
Gameweeks 1-6
Gameweek 7-38
In six of the last 11 seasons studied, Premier League defences became…
To read the rest of this article including a look at Liverpool under Klopp, City under Pep and Chelsea under Tuchel click here.

---
For more on the benefits of being a Fantasy Football Scout member check out our recent article.