Achieving near perfection in Fantrax Draft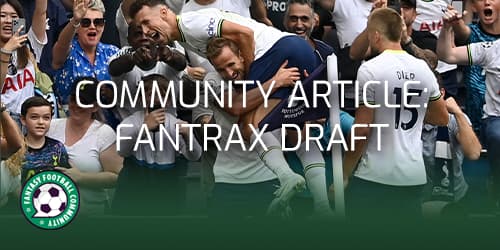 Will from Fantasy Football 92 is back talking us through his Fantrax Draft Gold League competition. This week he discusses achieving near perfection in Fantrax Draft and his plans to ensure this continues in to the next round of fixtures.
Seven years of drafting. A "Draft We Must" league title. An "International Genie League" title. A Draft Community League Champions Cup title. It's not often you get to brag about your Fantasy Football achievements so I'm grabbing this opportunity with both hands!
Why the (not so) humble brag? Well, my Togga/Fantrax experience has inadvertently landed me with my biggest and toughest task of all. Qualification to the Draft Community Gold League and here I am writing about my experience. This is unarguably the toughest league so I could genuinely finish dead last…hopefully not eh?
This week we took on Draft Society writer and old friend @wrigavin in what was sure to be another difficult task! But sometimes you manage to achieve near perfection in Fantrax Draft.
We got back to winning way in Gameweek 3 and in some style!
Those week's where literally EVERYTHING goes right for your fantasy team don't come around very often. But when they do it's important to enjoy every single second.
My opponent @wrigavin put in a solid effort of 87.75. A score which would've defeated seven other managers in the Gold League in Gameweek 3. Unfortunately for him, he came up against a team doing their best Barcelona circa 2009 impression.
After last week's disaster, a hot start felt important. I was enjoying the tail end of my summer holiday while nursing sunburn and a watered down beer. Ivan Perisic's first start of the season brought much joy. The Croatian full back is going to be a fantasy force this season and he was Tottenham's most threatening attacker for most of his time on the pitch. Perisic set up the only goal in a tidy 17 point haul while fellow full back Emerson Royal somehow plundered his way to a clean sheet to give us a 28.75 point cushion going into the three o'clock matches.
Three o'clock kick offs
Andreas Pereira has underwhelmed so far for Fulham. I wasn't expecting much from the pre-season Pirlo in all fairness. But he turned it on in the London derby against Brentford. The Brazilian turned it on in a man of the match performance, resulting in a 22.5 point haul.
It's always nice (and very rare) when a trade pays immediate dividends. So I was delighted to see Brennan Johnson open his Premier League books in composed fashion. Judging by his finish, there's plenty more to come!
Bournemouth v Arsenal
It's not often the game is over by the time the 5.30 game kicks off. But while I was sharing stories of Kostas Tsimikas with a Greek taxi driver (that really happened), Martin Odegaard showed why he was my second pick. A brace at Bournemouth, caused Gavin to message the group chat with an early submission.
There was, however, still time for Jack Harrison to continue with his Kevin De Bruyne impression. He returned a goal, assist and 30 more glorious points to add to his impressive early season tally. Can he keep this going? Do I need to trade him on a high or is he the real deal this season? He shows no signs of slowing down with a tasty set of fixtures.
Oh yeah, Mo Salah scored too on Monday. And grass is green.
Overall
All in all, it couldn't have gone any better. A monster score of 169.5 points puts us back on top of the Gold League and top of the Fantasy points table overall. Despite the week two blip, it's been a great start. I'm a couple of trades away from being very pleased with the squad on the whole.
The fact that no one has a perfect record after three weeks is a great demonstration of how competitive this league is. Truly the best of the best!
Waivers and Trades
No more trades to speak of. This is not for the lack of trying this week. Some of my league mates definitely have notifications turned off, either that or my offers are really bad.
Our waiver news is a successful $21 bid for Pervis Estupinan. He has been labelled as the second coming of Marc Cucurella by almost everyone with the smallest bit of La Liga knowledge. I'm ready to believe the hype. A 4.75 points return in 26 minutes on his debut is all I need to confirm that this is a really solid pick up.
Cesar Azpilicueta has also been secured for $3. I can't see a world where he continues to be left out of the Chelsea lineup after Leeds demolished them on Sunday. I'm happy with the condition of the squad going into Gameweek 4 but it's my oldest fantasy friend/foe @tottiandor who awaits.
I'm expecting to be talking about a 2-2 record this time next week. But if I'm 3-1, we could really be on to something here! Fingers crossed for more near perfection in Fantrax Draft this weekend.